Call us at (252) 492-1426 to reserve your boat today!
Rental Times:
Between Oct 1 and Memorial Day, rentals occurring on Monday, Tuesday, or Wednesday must be reserved at least 48 hrs in advance to accommodate during hours the marina store is closed.
Thursday – Friday 9:15 am-4:30 pm
Saturdays 9:15 am -5:30 pm
Sundays 10:15 am-4:30 pm
Click here to check availability before calling!   (This website is for availability purposes.  Boats are for day rental only unless you are renting for multiple days.  Please read the information below and feel free to call or email questions prior to booking.  Online booking is available with a 10% added convenience fee.  Fees are non-refundable for any reason.  To avoid fees, we take reservations over the phone or in person during store hours.
Boats are in the water, ready to go with all necessary safety items on board (adult life vests, fire extinguisher, throw cushion, and horn).
For children under 90 pounds, you may want to bring your own life vest.  We do provide some, but they are on a first-come, first-served basis.  We offer some for purchase in the store as well.
All boats have a bimini top and anchor.
Pets are NOT allowed.
Deposits are non-refundable for ANY reason, however, if the weather is a factor, we will apply your deposit to a future rental within the SAME calendar year.
Recommended items to bring:  Sunscreen, beach towels, cooler, floats, and any other item that will make your day on the lake a great one!
You will get the boat full of gas and will be required to pay for the gas you use upon returning the boat.
If you have any additional questions not answered on this page, please call the store at 252-492-1426 and our staff will be happy to answer them for you.
We look forward to providing you an opportunity to experience the lake from the best seat on the water!
---
Rates
Seats 6 Adults/20ft/50HP: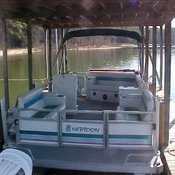 Seats 11 Adults/22ft/NEW 2017 Suzuki 70 HP